Timothy's Referral to Surrey Place Mental Retardation Centre 1972
Item
Title
en
Timothy's Referral to Surrey Place Mental Retardation Centre 1972
Identifier
en
Timothy - Referral to Surrey Place Mental Retardation Centre 1972_Redacted
Description
en
This document is a referral form for Timothy's admission to Surrey Place Mental Retardation Centre. The referral was made by a Social Worker at the Toronto Children's Aid Society. It offers a detailed history of Timothy's family history, his health and development, education, and reason for referral.
Date Created (Sorting Date, YYYY-MM-DD)
Date Valid (Custom date for Timelines)
Coverage (Location)
en
Sunbeam Homes for Retarded Children
Spatial Coverage (Coordinates)
43.661360, -79.388450|43.461204, -80.458251
depicts (People Featured)
Subject
en
Children's Aid Society
Access Rights
en
This Item is protected by copyright and/or related rights. You are free to use this Item in any way that is permitted by the copyright and related rights legislation that applies to your use. In addition, no permission is required from the rights-holder(s) for educational uses. For other uses, you need to obtain permission from the rights-holder(s).
Folder
Institutional Records|Organized Materials|Collections|Redacted Files|Transinstitutionalization
Item sets
Site pages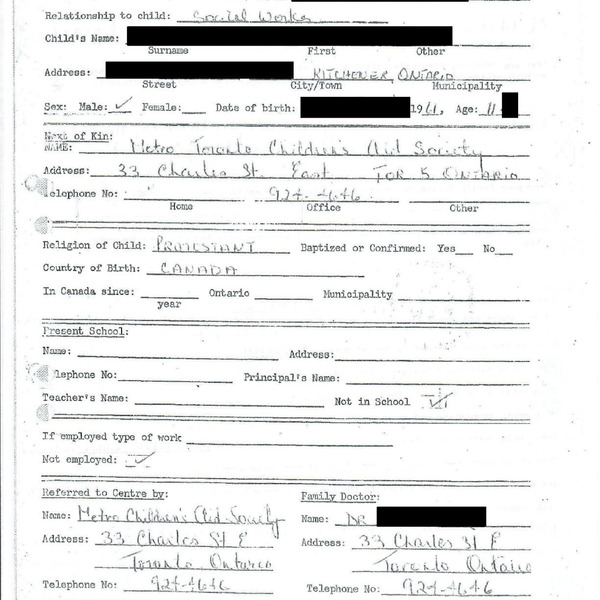 Timothy - Referral to Surrey Place Mental Retardation Centre 1972