Timothy's Psychological Report Institutional Services
Item
Title
en
Timothy's Psychological Report Institutional Services
Identifier
en
Timothy - Psychological Report Institutional Services_Redacted
Description
en
This document is a psychological report completed by a physician to determine Timothy's future placement. The report notes Timothy's IQ test score and describes him as being "seriously retarded and autistic."
Date Created (Sorting Date, YYYY-MM-DD)
Date Valid (Custom date for Timelines)
Coverage (Location)
en
Sunbeam Homes for the Retarded
Spatial Coverage (Coordinates)
depicts (People Featured)
Access Rights
en
This Item is protected by copyright and/or related rights. You are free to use this Item in any way that is permitted by the copyright and related rights legislation that applies to your use. In addition, no permission is required from the rights-holder(s) for educational uses. For other uses, you need to obtain permission from the rights-holder(s).
Folder
Institutional Records|Organized Materials|Collections|Redacted Files|Transinstitutionalization
Item sets
Site pages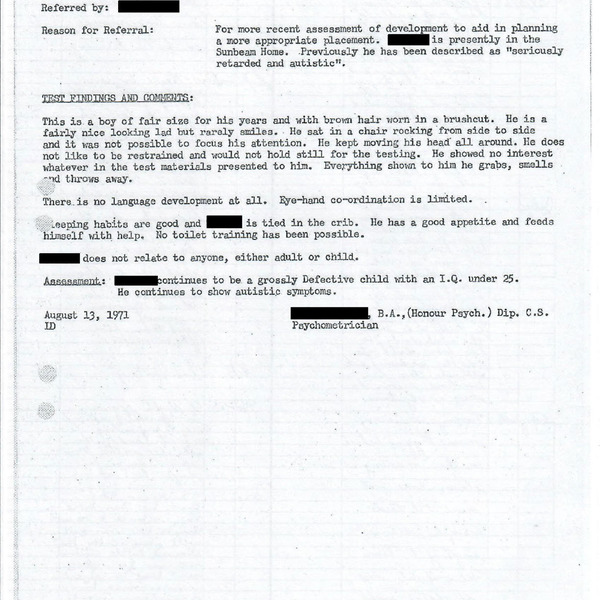 Timothy - Psychological Report Institutional Services