Marie Slark's Speakers Bureau Biography – Back Page
Item
Title
en
Marie Slark's Speakers Bureau Biography – Back Page
Description
en
Text: Proper sizes. I also process purses and luggage. I have my own apartment and I have a cat and a dog. I was a representative of the Class Action Suit against Huronia, with the help of my litigation guardian Marilyn Dolmage. We went to different places to tell people about Huronia and how to fill out the claims forms, and about the point system. I did a radio show and talked on TV. We went to Queen's Park and heard the apology from Kathleen Wynne. I am an Artist. I advocated against my brother Tommy going into a nursing home. He now lives in Christian Horizons in Barrie. I do exceptional work with my hands. I could inspire.
Date Created (Sorting Date, YYYY-MM-DD)
depicts (People Featured)
Access Rights
en
This Item is protected by copyright and/or related rights. You are free to use this Item in any way that is permitted by the copyright and related rights legislation that applies to your use. In addition, no permission is required from the rights-holder(s) for educational uses. For other uses, you need to obtain permission from the rights-holder(s).
Site pages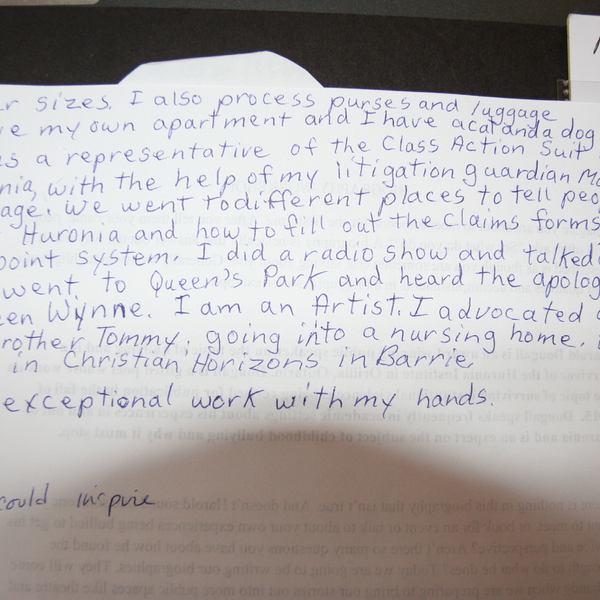 MS-back-2005-09-11 18.16.47.jpg