Carrieanne Ford's Speakers Bureau Biography – Back Page
Item
Title
en
Carrieanne Ford's Speakers Bureau Biography – Back Page
Description
en
Text: CarrieAnne Ford spent most childhood in the Huronia Regional Centre. Even though she grew up in a space that was very unkind, she is an expert at providing compassionate care to animals and children and those who are vulnerable. CarrieAnne has a keen ability to see and name the truth in hard situations. She is also a accomplished singer who once won a trophy for her vocal abilities. CarreAnne has an enormous heart and a ability to listen to those who are often not given a voice – like animals. CarrieAnne has the capacity to speak in sincere and frank ways about experiences of pain and vulnerability in HRC. Now widowed, CarrieAnne remains proud of her 26 year marriage.
Date Created (Sorting Date, YYYY-MM-DD)
depicts (People Featured)
Contributor (People Contributing)
Access Rights
en
This Item is protected by copyright and/or related rights. You are free to use this Item in any way that is permitted by the copyright and related rights legislation that applies to your use. In addition, no permission is required from the rights-holder(s) for educational uses. For other uses, you need to obtain permission from the rights-holder(s).
Site pages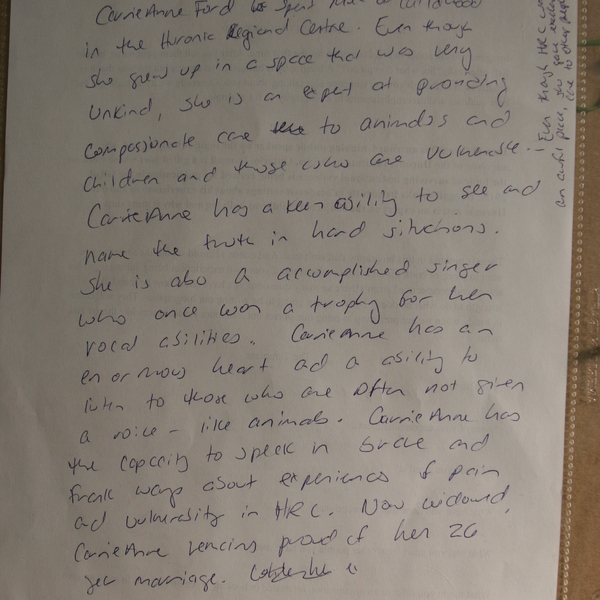 Car 01_2005-09-11 01.58.17.jpg