Bioarchaeology of Neolithic Çatalhöyük Reveals Fundamental Transitions in Health, Mobility and Lifestyle in Early Farmers
Item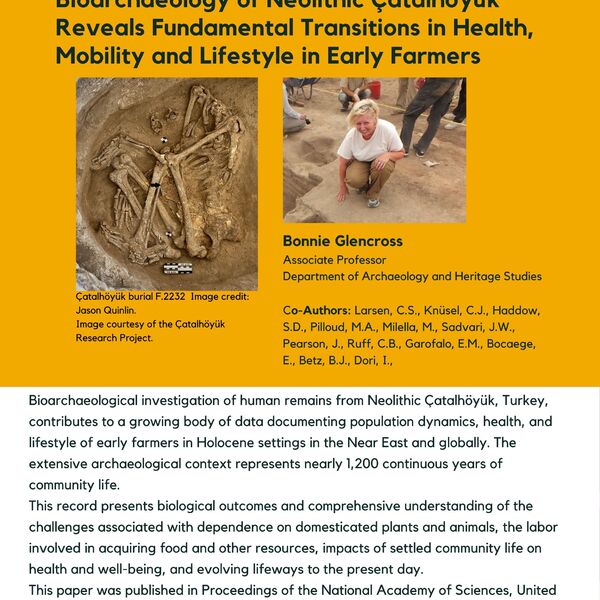 Glencross_Bonnie_revised.jpg
Title

Bioarchaeology of Neolithic Çatalhöyük Reveals Fundamental Transitions in Health, Mobility and Lifestyle in Early Farmers

Description

Bioarchaeological investigation of human remains from Neolithic Çatalhöyük, Turkey, contributes to a growing body of data documenting population dynamics, health, and lifestyle of early farmers in Holocene settings in the Near East and globally. The extensive archaeological context represents nearly 1,200 continuous years of community life. This record presents biological outcomes and comprehensive understanding of the challenges associated with dependence on domesticated plants and animals, the labor involved in acquiring food and other resources, impacts of settled community life on health and well-being, and evolving lifeways to the present day.

This paper was published in Proceedings of the National Academy of Sciences, United States of America, June 116(26): 12615-12623, 2019 and won the Cozzarelli Prize, Class V Behavioral and Social Sciences, 2020 from the National Academy of Sciences.

Rights

Access available to all users.